Listed below are Hawaii's illustrious Granders.

These are both black and Pacific blue marlin caught in Hawaii waters that have weighed 1,000 lbs or more.

If you have additional information on the marlin listed, other granders caught in Hawaii's waters, or have a better photograph than the one depicted, please share it with us. Contact us at fishnews@hawaii.rr.com.

HAWAII FISHING NEWS
P.O. Box 25488
Honolulu, Hawaii 96825
Phone (808) 395-4499
Fax (808) 396-3474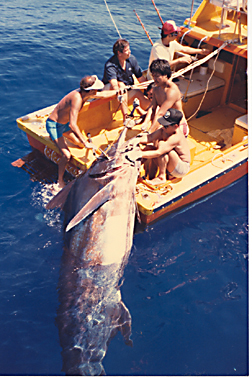 Grander Fishing, Hawaii-Style!

In Hawaii's waters even small boats have the opportunity to catch monster-sized fish like the revered 1,000-lb marlin.

Some of the largest marlin in the world have been caught near the shores of the Hawaiian Islands in some of the smallest boats you can imagine! In fact, the largest blue marlin ever caught on a rod and reel was caught by Capt. Cornelius Choy and his daughter Gail on the COREENE-C in 1971. The fish weighed an astonishing 1,805 lbs.

The fish to the left is a 1,269-lb Pacific blue marlin caught by Capt. Lee Gonsalves, Jesse Masagatani and Tommy Medeiros on the boat, EKENA ELUA, in 1986. They were only 15 miles off the windward coast of Oahu when the marlin attacked a lure. It was the second grander in two days for the fishermen plying the windward coast.
















| | | | | |
| --- | --- | --- | --- | --- |
| Fish | Weight | Angler | Location | Date |
| Blue Marlin | 1000 | Howard Hose | Hilo, Hawaii | 00/00/98 |
| Blue Marlin | 1000 | Del Marsh | Kona, Hawaii | 03/28/89 |
| Blue Marlin | 1002 | David Davidson | Maui | 00/00/81 |
| Blue Marlin | 1002 | George Parker | Hawaii-Kai, Oahu | 11/13/54 |
| Blue Marlin | 1005 | Butch Chee | Kona, Hawaii | 07/10/62 |
| Blue Marlin | 1007 | Vivian Kekahuna and Larry Ho | Kaneohe, Oahu | 06/00/94 |
| Blue Marlin | 1008 | Ernie France | Kona, Hawaii | 01/15/13 |
| Blue Marlin | 1008 | Chuck Blesso | Nawiliwili, Kauai | 08/08/97 |
| Blue Marlin | 1009 | Fred Erickson | Kona, Hawaii | 04/26/62 |
| Blue Marlin | 1010 | Capt. Paul Andrade & Crew | Hilo, Hawaii | 07/06/15 |
| Blue Marlin | 1010 | Walter Uza | Waianae, Oahu | 08/16/94 |
| Blue Marlin | 1012 | Wayne Watanabe | South of O'ahu | 03/19/06 |
| Blue Marlin | 1012.5 | Pat Wond, Mitchell Meyer and Ricardo Rellin | Waianae, Oahu | 03/31/82 |
| Blue Marlin | 1014 | Jim Schultz | Kona, Hawaii | 03/25/60 |
| Blue Marlin | 1014 | Tosh Ervin | Kona, Hawaii | 04/29/03 |
| Blue Marlin | 1015 | Tori Hesedahl | Kahe Power Plant , Oahu | 03/05/01 |
| Blue Marlin | 1015 | Rudy Puana | Kaneohe, Oahu | 00/00/79 |
| Blue Marlin | 1016 | John Davis | Kona, Hawaii | 02/28/86 |
| Blue Marlin | 1019 | Daniel O'Callaghan and Capt. Brian Toney | Kona, Hawaii | 07/01/98 |
| Blue Marlin | 1019 | Frank Barone | Kona, Hawaii | 09/07/91 |
| Blue Marlin | 1020 | Jimmy Tomei | Waianae, Oahu | 07/08/84 |
| Blue Marlin | 1021 | Ramon Flores | Kona, Hawaii | 05/18/01 |
| Blue Marlin | 1022 | Molly Palmer | Kona, Hawaii | 08/18/12 |
| Blue Marlin | 1024 | Wayne Thompson & Robert Weidenger | Waianae, Oahu | 08/21/12 |
| Blue Marlin | 1026.4 | Mike Bixler, Jim Bierd and Michael Skaggs | Lahaina, Maui | 07/18/07 |
| Blue Marlin | 1032 | Dirk Britton | Waianae, Oahu | 04/01/82 |
| Blue Marlin | 1036 | Paula Pattinson | Kona, Hawaii | 04/01/02 |
| Blue Marlin | 1037 | Stan Phillips and Donald Graciidis Jr. | Kona, Hawaii | 05/21/90 |
| Blue Marlin | 1039.6 | Johnathan Harris | Maalaea, Maui | 00/00/12 |
| Blue Marlin | 1040 | Mike Benham | Kona, Hawaii | 06/15/78 |
| Blue Marlin | 1040.7 | Rex Koga | Kaneohe, Oahu | 03/21/15 |
| Blue Marlin | 1041 | Mark Wilby | Kona, Hawaii | 07/19/99 |
| Blue Marlin | 1043 | Steve Spina | Kona, Hawaii | 07/03/13 |
| Blue Marlin | 1045 | Barrett O'Donnell | Kona, Hawaii | 07/12/01 |
| Blue Marlin | 1048 | Rudy Basmayor | Kona, Hawaii | 06/26/99 |
| Blue Marlin | 1049 | Gilbert Hun | Waianae, Oahu | 04/14/92 |
| Blue Marlin | 1049 | Tommy Werner | Kona, Hawai'i | 03/16/06 |
| Blue Marlin | 1050 | James Celestino | Waianae, Oahu | 08/28/87 |
| Blue Marlin | 1050 | David Murasaki and Ricky Urada | Kona, Hawaii | 05/25/86 |
| Blue Marlin | 1050 | Gary Nakashima and Wesley Takazono | Kaneohe, Oahu | 05/11/79 |
| Black Marlin | 1051 | Chris Robb | Kona, Hawaii | 06/13/93 |
| Blue Marlin | 1051 | Capt. Bill Trotter and Ray Dela Cruz | Kaneohe, Oahu | 00/00/93 |
| Blue Marlin | 1053 | Tony Cordero and Leslie Cansibog | Waianae, Oahu | 00/00/01 |
| Blue Marlin | 1053 | Jeffery McLaughlin | Kona, Hawaii | 08/07/00 |
| Blue Marlin | 1053 | Jimmy Akiona Sr. | Kona, Hawaii | 03/12/89 |
| Blue Marlin | 1055 | Lloyd Toriano | Kona, Hawaii | 07/01/84 |
| Blue Marlin | 1056 | Matt Prater | Kona, Hawaii | 03/31/08 |
| Blue Marlin | 1058 | Bob Leggio | Kona, Hawaii | 09/05/85 |
| Blue Marlin | 1058 | Kai Rizzuto | Kona, Hawaii | 02/18/15 |
| Blue Marlin | 1058.3 | Mike and Kendall Michaelis | Manele Bay, Lanai | 05/25/15 |
| Black Marlin | 1060 | Herman Gomes and John Langsi | Kona, Hawaii | 07/22/85 |
| Blue Marlin | 1062 | Gil Kraemer | Kona, Hawaii | 08/08/86 |
| Blue Marlin | 1062 | Garrett Handwork | Kona, Hawaii | 03/13/11 |
| Blue Marlin | 1064 | Tim O'Hallaran | Kona, Hawaii | 06/05/09 |
| Blue Marlin | 1065.5 | Mike Nesbitt & Drew Bradley | Miloli'i, Big Island | 08/12/03 |
| Blue Marlin | 1067 | Sandy Haught | Barber's Point, Oahu | 05/05/95 |
| Blue Marlin | 1070 | John "L.J." Benson and Mark Perkins | Kaneohe, Oahu | 12/29/00 |
| Blue Marlin | 1070 | Capt. Mike DeRego | Honolulu, Oahu | 06/00/72 |
| Blue Marlin | 1075 | Brent Nelson | Kona Coast | 08/18/15 |
| Blue Marlin | 1077 | Frieder Boeck and Fred Patricio | Kaneohe, Oahu | 09/00/93 |
| Blue Marlin | 1082 | Greg Bridler | Kona, Hawaii | 06/09/91 |
| Black Marlin | 1088 | Vaughn Miyauchi | Kona, Hawaii | 07/05/78 |
| Blue Marlin | 1089 | Cory Vellalos | Hale'iwa, O'ahu | 07/19/03 |
| Blue Marlin | 1090 | Coates Cobb Adams Sr. | Kaneohe, Oahu | 09/09/75 |
| Blue Marlin | 1092 | Stacy, Kelly, Elijah & Denver | Waianae, Oahu | 07/30/12 |
| Blue Marlin | 1095 | Henry Chee | Kona, Hawaii | 05/30/64 |
| Blue Marlin | 1100 | Ross Kawawaki and Charlie Ching | Waianae, Oahu | 03/05/89 |
| Blue Marlin | 1100 | Dennis Kunahisa and Crew | Haleiwa, Oahu | 05/25/79 |
| Blue Marlin | 1100 | Willie Erickson | Kona, Hawaii | 05/23/67 |
| Blue Marlin | 1101 | Andrew Mau | North Shore, Molokai | 10/25/97 |
| Blue Marlin | 1103 | Kelly Everette | Kona, Hawaii | 06/25/87 |
| Blue Marlin | 1104 | Jill and John Anderson | Kona, Hawaii | 04/10/10 |
| Blue Marlin | 1106 | Rodney Kam | North Shore, Molokai | 10/25/97 |
| Blue Marlin | 1109 | Drew Richardson and David Harvey | Kona, Hawaii | 06/28/94 |
| Blue Marlin | 1111 | Darien and Clifford Jr. | Kona, Hawaii | 03/30/85 |
| Blue Marlin | 1112 | Capt. Andy Anderson | Honolulu, Oahu | 00/00/78 |
| Blue Marlin | 1112 | Walter Koyanagi | Kona, Hawaii | 07/01/79 |
| Blue Marlin | 1115 | David Wolfsen | Kona, Hawaii | 04/06/01 |
| Blue Marlin | 1117 | Rik Jones | Kona, Hawaii | 06/00/77 |
| Blue Marlin | 1118 | Reese Randall | Lanai, Hawaii | 08/03/02 |
| Blue Marlin | 1120 | Mickey Waddopus | Kona, Hawaii | 04/20/90 |
| Blue Marlin | 1132.5 | Jeff Van Hove | Kona, Hawaii | 05/20/05 |
| Blue Marlin | 1140 | Kerwin Masunaga | Kona, Hawaii | 08/09/01 |
| Blue Marlin | 1140 | Daniel Fuchigami | Lanai, Hawaii | 06/01/09 |
| Blue Marlin | 1140 | John Eddy | Maui (JJ-buoy) | 02/10/92 |
| Blue Marlin | 1143 | Pat Smith and Andrea Stamiforth | Kona, Hawaii | 01/30/92 |
| Blue Marlin | 1143.5 | Ray Bayner and Paul Chiakas | Kona, Hawaii | 02/25/78 |
| Blue Marlin | 1144 | Mike Banks | Kona, Hawaii | 07/27/95 |
| Blue Marlin | 1148 | Bob Unger | Kona, Hawaii | 09/08/65 |
| Blue Marlin | 1148 | Mike Contrares | Port Allen, Kauai | 11/11/98 |
| Blue Marlin | 1150 | Jimmy Fernandez | Kaneohe, Oahu | 00/00/79 |
| Blue Marlin | 1150 | Keone Hoopii | Kaneohe, Oahu | 03/07/86 |
| Blue Marlin | 1153 | Stan Sack | Kona, Hawaii | 06/30/87 |
| Blue Marlin | 1157 | Donnita Hamilton | Nanakuli, Oahu | 00/00/87 |
| Blue Marlin | 1161 | Yasuo Takahashi | Kona, Hawaii | 01/10/92 |
| Blue Marlin | 1165 | Ken Cort | Kona, Hawaii | 12/28/94 |
| Blue Marlin | 1166 | Ray Hawkes | Kona, Hawaii | 08/19/93 |
| Blue Marlin | 1168 | Scott Preece | Kona, Hawaii | 04/22/85 |
| Blue Marlin | 1170 | Bobby Brown | Kona, Hawaii | 01/20/74 |
| Blue Marlin | 1171 | Ron Walker and Walt Mahoney Jr. | Kona, Hawaii | 07/20/88 |
| Blue Marlin | 1174 | Paul Ortiz and Chris Cena | Kewalo, Oahu | 11/01/96 |
| Blue Marlin | 1174 | Jeffrey Russell | Kona, Hawaii | 04/08/02 |
| Blue Marlin | 1178 | Armando Pacheco and Ryan Wilson | Haleiwa, Oahu | 06/26/02 |
| Blue Marlin | 1183 | Steve and Sue Gibbons | Kona, Hawaii | 09/17/85 |
| Blue Marlin | 1188 | Thomas Duarte and Del Leid | Kona, Hawaii | 03/21/85 |
| Blue Marlin | 1190 | Michelle Kobayashi | Hilo, Hawaii | 06/23/01 |
| Blue Marlin | 1195 | Don and Joan Taylor | Kona, Hawaii | 06/10/84 |
| Blue Marlin | 1199 | Doug Jorgensen | Lahaina, Maui | 10/29/93 |
| Blue Marlin | 1200 | Leonard Huddy | Waianae, Oahu | 07/00/01 |
| Blue Marlin | 1202 | Chris Kam and Randy Marks | Kaneohe, Oahu | 01/12/88 |
| Black Marlin | 1205 | Bill and Brad Brontseme and Frank Di Donna | Kona, Hawaii | 07/19/80 |
| Blue Marlin | 1207 | Al Bento | South Shore, Oahu | 05/00/94 |
| Blue Marlin | 1209 | Louis Paulo | Milolii, Hawaii | 04/14/78 |
| Blue Marlin | 1211 | Robert Steffens | Kona, Hawaii | 03/27/14 |
| Blue Marlin | 1212 | Ivan Mochida | Hilo, Hawaii | 06/17/95 |
| Blue Marlin | 1213 | Daisuke Yamazaki | Kona, Hawaii | 01/30/00 |
| Blue Marlin | 1222 | Capt. Eric Hawkins and First Mate Hopie Hawkins | Molokai | 03/01/16 |
| Blue Marlin | 1226 | Dean Lemman | Kona, Hawaii | 05/26/15 |
| Blue Marlin | 1229 | Richard Hartom | Kona, Hawaii | 01/01/86 |
| Blue Marlin | 1230 | Isaac Kaialau | Waianae, Oahu | 02/16/97 |
| Blue Marlin | 1236 | Bill Risso, Kenny Risso and Miles Iwasaki | Kaneohe, Oahu | 06/18/11 |
| Blue Marlin | 1245 | Marvin Bethune | Oahu, Hawaii | 01/00/10 |
| Blue Marlin | 1252 | William Frando and Nathan Libarios | Kailua-Kona, Hawaii | 04/00/77 |
| Blue Marlin | 1252 | Ed Noinain | Kona, Hawaii | 03/25/08 |
| Blue Marlin | 1257 | Robert H. Waryas | Kona, Hawaii | 09/25/78 |
| Blue Marlin | 1258.5 | Miguel Koenig | Kailua-Kona, Hawaii | 07/06/03 |
| Blue Marlin | 1265 | Hunter Clawson | Milolii, Hawaii | 09/13/83 |
| Blue Marlin | 1269 | Jesse Masagatani and Tommy Medeiros | Kaneohe, Oahu | 03/08/86 |
| Blue Marlin | 1277 | Ron Foo | Kewalo, Oahu | 10/02/93 |
| Blue Marlin | 1299 | Gary Largo and Nasario Quemado Jr. | Waianae, Oahu | 09/03/03 |
| Blue Marlin | 1299 | Steve Aoki | Kona, Hawaii | 07/03/88 |
| Blue Marlin | 1309 | Michael Bilich | Kona Coast | 08/26/15 |
| Blue Marlin | 1319 | Chuck Sullivan | Kona, Hawaii | 09/26/80 |
| Blue Marlin | 1350 | Harry Grace Jr. | Milolii, Hawaii | 06/18/77 |
| Blue Marlin | 1356 | John Livingstone, Bruce Graham and Pete Miccolly | Kona, Hawaii | 06/06/92 |
| Blue Marlin | 1368 | Guy Kitaoka | Kona Coast | 07/28/15 |
| Blue Marlin | 1376 | Jay DeBeaubien | Kona, Hawaii | 05/31/82 |
| Blue Marlin | 1400 | Roy Hudson | Kona, Hawaii | 05/05/90 |
| Blue Marlin | 1450 | Cyril and Paul Burgoyne | Kona, Hawaii | 01/05/79 |
| Blue Marlin | 1477 | Gary Silva | Kaneohe, Oahu | 12/16/88 |
| Blue Marlin | 1649 | Gary Merriman, Rankin Smith Jr. & Roy Imamura | Kona, Hawaii | 03/16/84 |
| Blue Marlin | 1650 | All of us | II-buoy, Oahu | 03/00/91 |
| Blue Marlin | 1805 | Mike Wachtier, Pat Morello, Charles Lewis and Gail Choy | Waianae, Oahu | 06/10/71 |