Six Great Islands, One GREAT Place to Fish

HAWAII FISHING NEWS brings it all to you! Sportfishing in Hawaii is year-round!

Aptly titled by HAWAII FISHING NEWS in 1977, the "Blue Marlin Capital of the World." Hawaii offers six species of billfish plus yellowfin (ahi), skipjack (aku), dogtooth, bonito, albacore and bigeye tuna. Other species of offshore game fish include wahoo (ono), dolphin fish (mahimahi), great barracuda (kaku) and rainbow runner (kamanu,or Hawaiian salmon).

Bottom fishing is also popular in Hawaii with good catches of snapper being made in depths of 10 to 100 fathoms.

Inshore waters of Hawaii, with 700 miles of fishable shoreline, draw the most activity from anglers. Heavy-duty shorecasting rigs allow anglers to tackle giant ulua (jacks) of up to 200 lbs as they prowl the reefs at night. Medium tackle and ultralight fishing clubs have sprung up in Hawaii as anglers have discovered the excitement of fishing for the many other species that make the reefs and sandy channels their homes.

Freshwater enthusiasts are not to be denied as Hawaii has more varieties of freshwater game fish than most areas of the mainland; these include largemouth bass, smallmouth bass, oscar, tucunare, channel catfish and rainbow trout.

What all this adds up to? Hawaii is a great place to fish!


---
HAWAII FISHING NEWS Subscription Info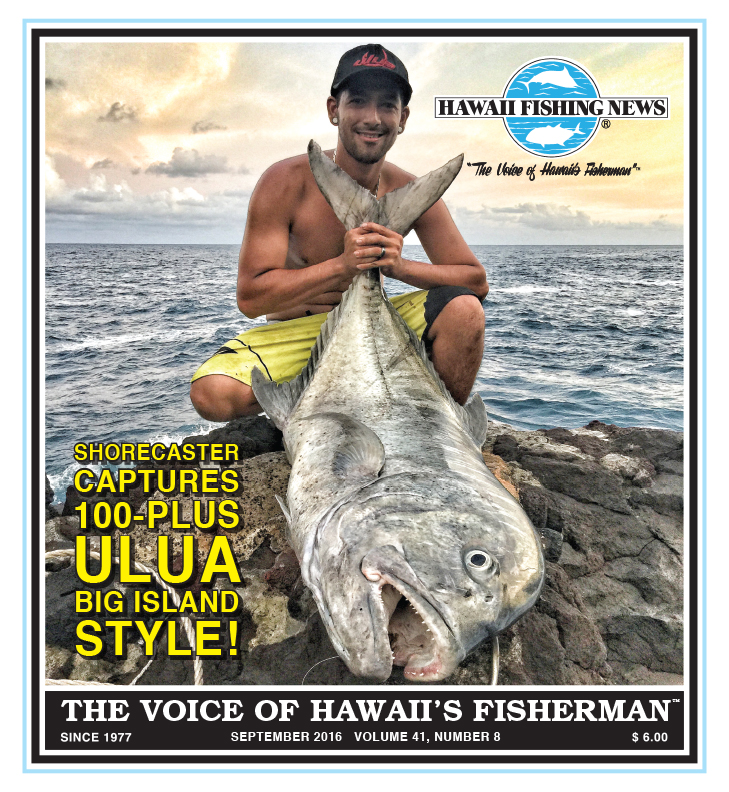 Subscribing to HAWAII FISHING NEWS is easy!

We'll even send HAWAII FISHING NEWS via VIP Airmail to our friends on the mainland.

Here are our subscription rates:

Hawaii In-State Subscription
1 Year (12 Issues with Almanac) ------------- $85

VIP--Airmail to U.S. Mainland
1 Year (12 Issues with Almanac) ------------- $105

Canada--Airmail
1 Year (12 Issues) ---------------------------- $136

International (includes special airmail packaging)
1 Year (12 Issues) ---------------------------- please email hfnpublishing@gmail.com

Please send check or money order (in U.S. Dollars) to:

HAWAII FISHING NEWS
P.O. Box 25488
Honolulu, Hawaii 96825
Phone (808) 395-4499
E-Mail hawaiifishingnews@gmail.com


Order Online!
Order annual subscriptions online at hfnpublishing.com


*WARNING* HFN Customers:

Please know that you can ONLY obtain a subscription for HAWAII FISHING NEWS DIRECTLY FROM HFN via mail or at hfnpublishing.com.

One of our current subscribers let us know that there is a fraudulent online company claiming to sell subscriptions to our publication. We hope this warning will help you not become a victim of fraud. We are also doing what we can to have this online subscription offer taken down. If you discover anything suspicious representing HAWAII FISHING NEWS publications please let us know.


---
HAWAII FISHING NEWS Magazine Carriers

Interested in buying an issue locally? Check out the list below.


Hawaii

A. Arakaki Store, Inc.


Kona Charter Desk


Newsstand at Hilo Airport


Pacific Rim Fishing Tackle


Pahoa Fresh Fish Keaau


Pop's Spearfishing


S. Tokunaga Store


Susumu's Fishing Tackle


Kauai

Lihue Fishing Supply


Lanai

Pine Isle Market


Maui

All About Fish


GJ's Fishing Tackle & Supply


Maui Sporting Goods


New Maui Fishing Supply


West Maui Sporting Goods


Molokai

Molokai Drugs Inc.


Oahu

Barnes & Noble


Brian's Fishing Supply


J & E Fishing Supplies


Kaya Fishing Supply


Kailua General Store


McCully Bicycle


Nanko, Inc.


Pioneer Ace Hardware (Haleiwa, Laie, and Wahiawa)


POP Fishing & Marine


Roy's Fishing Supply


Tamashiro Market


---
Privacy Policy


03/28/2019

Hawaii Fishing News LLC ("us", "we", or "our") operates the App "Hawaii Fishing News" (the "Service").

Hawaii Fishing News LLC built the Hawaii Fishing News app as a Commercial app. This mobile application is provided by Hawaii Fishing News and is intended for use as is. This page is used to inform visitors regarding our policies with the collection, use, and disclosure of Personal Information if anyone decided to use our Service.

If you choose to use our Service, then you agree to the collection and use of information in relation to this policy. The Personal Information that we collect is used for providing and improving the Service. We will not use or share your information with anyone except as described in this Privacy Policy.

Data Controller and Owner: Hawaii Fishing News LLC (hawaiifishingnews@gmail.com)

Information Collection and Use
For a better experience, while using our Service, we may require you to provide us with certain personally identifiable information, including but not limited to email address, first name and last name. The information that we request will be retained by us and used as described in this privacy policy. The User assumes responsibility for the Personal Data shared through this Application and declares to have the right to communicate or broadcast them, thus relieving the Data Controller of all responsibility.

The app does not use third party services that may collect information used to identify you.

Methods of processing
The Data Controller processes the Data of Users in a proper manner and shall take appropriate security measures to prevent unauthorized access, disclosure, modification, or unauthorized destruction of the Data.

The Data processing is carried out using computers and/or IT enabled tools, following organizational procedures and modes strictly related to the purposes indicated. In addition to the Data Controller, in some cases, the Data may be accessible to certain types of persons in charge, involved with the operation of the site (administration, sales, marketing, legal, system administration) or external parties (such as third party technical service providers, mail carriers, hosting providers, IT companies, communications agencies) appointed, if necessary, as Data Processors by the Owner. The updated list of these parties may be requested from the Data Controller at any time.

Place
The Data is processed at the Data Controller's operating offices and in any other places where the parties involved with the processing are located. For further information, please contact the Data Controller.

Retention time
The Data is kept for the time necessary to provide the service requested by the User, or stated by the purposes outlined in this document, and the User can always request that the Data Controller suspend or remove the data.

The use of the collected Data
The Data concerning the User is collected to allow the Application to provide its services, as well as for the following purposes: Creation of the user in app profile, Content commenting and Interaction with external social networks and platforms.

When you use our mobile apps, we may collect certain information in addition to information described elsewhere in this Policy. For example, we may collect information about the type of device and operating system you use. We may ask you if you want to receive push notifications about activity in your account. If you have opted in to these notifications and no longer want to receive them, you may turn them off through your operating system. We may ask for, access or track location-based information from your mobile device so that you can test location-based features offered by the Services or to receive targeted push notifications based on your location. If you have opted in to share that location-based information, and no longer want to share them, you may turn sharing off through your operating system. We may use mobile analytics software to better understand how people use our application. We may collect information about how often you use the application and other performance data.

Content Comment
Content commenting services allow users to make and publish their comments on the contents of this Application.

If there is an email address among the Personal Data provided by the User, it may be used to send notifications of comments on the same content. Users are responsible for the content of their own comments. Hawaii Fishing News doesn't hold any responsibility related to the content in comment section. Abusive language/ Irrelevant content is not allowed in comment section and data controller holds right to remove such content at any point of time.

System Logs and Maintenance
For operation and maintenance purposes, this Application may collect information that record interaction with this Application (System Logs) or use for this purpose other Personal Data (such as IP Address).

Information not contained in this policy
More details concerning the collection or processing of Personal Data may be requested from the Data Controller at any time. Please see the contact information at the beginning of this document.

The rights of Users
Users have the right, at any time, to know whether their Personal Data has been stored and can consult the Data Controller to learn about their contents and origin, to verify their accuracy or to ask for them to be supplemented, cancelled, updated or corrected, or for their transformation into anonymous format or to block any data held in violation of the law, as well as to oppose their treatment for any and all legitimate reasons. Requests should be sent to the Data Controller at the contact information set out above.

Log Data
We want to inform you that whenever you use our Service, in a case of an error in the app we collect data and information (through third party products) on your phone called Log Data. This Log Data may include information such as your device Internet Protocol ("IP") address, device name, operating system version, the configuration of the app when utilizing our Service, the time and date of your use of the Service, and other statistics.

Cookies
Cookies are files with a small amount of data that are commonly used as anonymous unique identifiers. These are sent to your browser from the websites that you visit and are stored on your device's internal memory.

This Service does not use these "cookies" explicitly. However, the app may use third party code and libraries that use "cookies" to collect information and improve their services. You have the option to either accept or refuse these cookies and know when a cookie is being sent to your device. If you choose to refuse our cookies, you may not be able to use some portions of this service.

Service Providers
We want to inform users of the Hawaii Fishing News App that no third parties have access to your Personal Information. We recognize that we are obligated not to disclose or use your information for any other purpose than communicating with you.

Security
We value your trust in providing us your Personal Information, thus we are striving to use commercially acceptable means of protecting it. But remember that no method of transmission over the internet, or method of electronic storage is 100% secure and reliable, and we cannot guarantee its absolute security.

Links to Other Sites
This Service may contain links to other sites for advertisement. If you click on a third-party link, you will be directed to that site. Note that these external sites are not operated by us. Therefore, we strongly advise you to review the Privacy Policy of these websites. We have no control over and assume no responsibility for the content, privacy policies, or practices of any third-party sites or services.

Children's Privacy
These Services do not address anyone under the age of 13. We do not knowingly collect personally identifiable information from children under 13. In the case we discover that a child under 13 has provided us with personal information, we immediately delete this from our servers. If you are a parent or guardian and you are aware that your child has provided us with personal information, please contact us so that we will be able to do necessary actions.

Changes to This Privacy Policy
We may update our Privacy Policy from time to time. We will notify you of any changes by posting the new Privacy Policy on this page. We will let you know via email and/or a prominent notice on our Service, prior to the change becoming effective and update the "effective date" at the top of this Privacy Policy.

You are advised to review this Privacy Policy periodically for any changes. Changes to this Privacy Policy are effective when they are posted on this page.

Legal information
Notice to European Users: This privacy statement has been prepared in fulfillment of the obligations under EU GDPR law.

This privacy policy relates solely to the Hawaii Fishing News application.


Contact Us
If you have any questions or suggestions about our Privacy Policy, do not hesitate to contact us at hawaiifishingnews@gmail.com.


---
Contact Us!

Phone (808) 395-4499
E-Mail hawaiifishingnews@gmail.com